Include the right kinds of light in your kitchen's universal design plan to make it more workable and visually pleasing for all
"Up, down and all around." I use this little saying to make sure I have addressed all the required elements when I'm planning a lighting design. Sounds simple, but it really does work.Up LightingThe most common use of up lighting is in a recessed cove around the top perimeter of a room. To maximize light output, use a T5 fluorescent or LED light source that will wash the ceiling with light. This helps to create a brighter ceiling that bounces and reflects light throughout the space without glare. Combine this with lots of natural daylight to increase the overall light levels in a room.
If your cabinets don't go to the ceiling, consider adding lights above the cabinets. Using a more powerful light source, such as a T5 fluorescent, increases the reflectivity of the ceiling, thereby increasing the light in the room.
While increasing light levels is important, it is equally important to minimize glare. Use matte finishes to reduce light flares and glare.
Countertops are often the culprits in causing glare. If you prefer stone countertops, consider those that are honed to reduce reflection and glare.
DownlightingDownlighting is just that: lighting that shines down to illuminate a space. Down lighting can sometimes be referred to as general lighting. Once it was simply the only light source in a room — that single fixture in the middle of the ceiling. If this is your only option, placement and quantity of fixtures are the keys to attaining a balanced lighting level while reducing dark corners. Pot lights are also considered downlighting.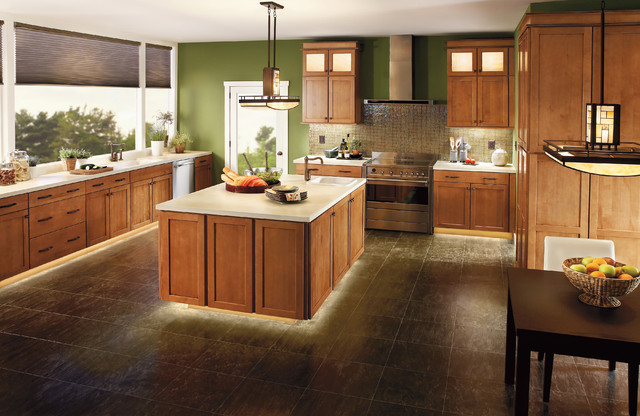 Visual CuingAnother important aspect of lighting a space for those with diminishing eyesight is visual cuing. Visual cuing provides an additional reference point for judging distance or depth when entering a space or approaching objects. The lighting at the base of these cabinets, or toe-kick lighting, contrasts well with the dark floor and midtone cabinetry, creating a readily visible contrast. But people will just think it's cool.
This article was written by:

Anne-Marie Brunet, CKD, CBD
I am a Certified Kitchen & Bath Designer and the principal of Sheridan Interiors. I hold my certificate in Lighting Fundamentals from the IESNA. My work has been published in several specialty shelter books and magazines. My goal is always to create functional elegant interiors through intelligent design.
http://www.sheridaninteriors.ca