From drab, dreary or just plain outdated to modernized marvels, these kitchens were transformed at the hands of resourceful Houzzers
We asked you to
show us your kitchen remodels
, and the results — from midcentury renovations and restored Edwardians to updated cottages in India — are in. These Houzz users wanted some serious kitchen makeovers, and whether they did all the work themselves or got a little help along the way, their investments paid off in updated spaces that reflect their life and style.
Get inspired to tackle your own kitchen remodel with ideas and inspiration from 24 kitchen transformations from your fellow Houzzers.
1. Beautiful and Efficient California Remodel

AFTER:
Houzz user
clairedial
bought this 1950s home two years ago and remodeled the kitchen right away. Designed by her husband and a friend with a degree in interior design, the new space is outfitted with all their must-haves and more. "We love everything about our remodel," she says.
New kitchen size:14 by 28 feet
Budget: $65,000. Designed by her husband and a friend who studied interior design.
Location: Modesto, California
2. Elegant Upgrade in California

AFTER:
Houzz user
mwillis42
built her house in 1990, when kitchens were often black, white and modern. About five years ago, she grew sick of it and decided to update the countertops with granite. Of course, the desire for new cabinetry soon followed, but since she had put in new countertops (and didn't really feel like tearing them out), she found a painter who stained the old cabinetry in a dark cherry color — a much cheaper alternative to refacing.
New kitchen size:about 20 by 30 feet
Budget: $17,000. Updates were done by the owners over time.
Location: El Centro, California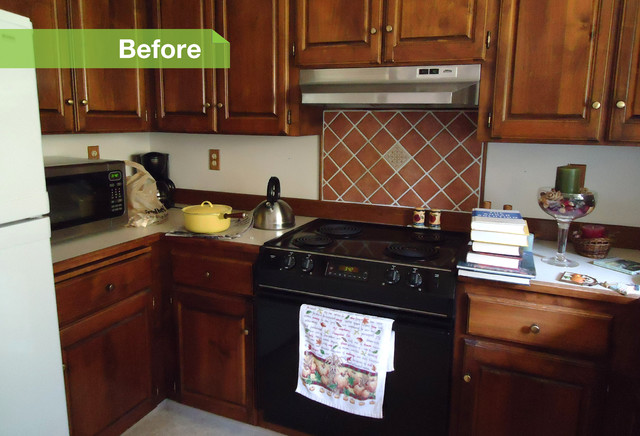 3. Colorful Washington Update

AFTER:
Colorgal
gave a cramped and dark 1970s ranch a facelift with painted cabinetry, a higher ceiling and replacements for unflattering
fluorescent lighting
. Stainless steel appliances, new hardware and splashes of green added color to the cool palette, with wicker accent lighting for extra warmth.
New kitchen size:10 by 10 feet
Budget: $15,000, including eat-in nook. The homeowners did their own design.
Location: Kelso, Washington
4. Modern Texas Kitchen

AFTER:
Houzz user
morelights
and her husband transformed this formerly outdated and sunflower-covered kitchen into the contemporary space she wanted. Glossy black paint covers the oak cabinets, and granite now covers the counter and the island. A soft blue-gray was chosen for the walls and the island, and a horizontal slate backsplash and stainless steel accents gave the space a sleek touch.
New kitchen size:14 by 16 feet
Budget: $17,000. The homeowners designed the kitchen and did the work.
Location: Midland, Texas
5. Sweet Massachusetts Lakeside Kitchen

AFTER:
"We didn't intend for the house to be a total gut job, but it quickly became one," says Houzz user
alilly
. As soon as the planning started, it became clear that they'd need to start from scratch.
The kitchen was completely redesigned with quartz counters, a butcher block island and Kraftmade cabinets. Best of all, the island was reoriented to face the beautiful lakeside view outside.
New kitchen size:8 by 11 feet
Budget: The kitchen was part of a full home remodel. The owners came up with the design, and a builder did the CAD drawings.
Location: Otis, Massachusetts
6. Sleek and Modern in Canada

AFTER:
This condo was built in 1981 and hadn't been renovated until user
annabauer
decided to take it on. Green wall-to-wall carpeting and cherry high-gloss subway tile floors were torn up and replaced with sleek hardwood. The tiny kitchen, limited by a serve-through counter, was opened up by removing the walls so that it tied in with the family and dining rooms.
New kitchen size:9 by 13 feet
Budget: $30,000. A good friend, Samantha Sacks, did the design.
Location: Toronto
7. Green and White Remodel in India

AFTER:
This kitchen in a small Indian village wasn't much to speak of at first — the 40-year-old house was fairly dilapidated. Houzz user
srivatsan24
designed the new space himself, focusing on a clean, simple and efficient design. A local carpenter helped him implement the new look.
New kitchen size: 10 by 12 feet
Budget: About $4,000. The owner did the design and hired a carpenter to do the woodwork.
Location: Pondicherry, India
8. Spacious and Open Utah Layout

AFTER:
Built in 1980,
shoyal
's new home happened to be the home her husband had grown up in — unfortunately, it had never been updated. With the help of a great cabinetmaker, they redesigned the space to be more open and flow smoothly. A corner wall was taken out, and a French door was added for more light and outdoor access.
New kitchen size: 575 square feet
Budget: $40,000. The owners did the design with the help of their cabinetmaker.
Location: Orem, Utah
9. Major Massachusetts Remodel

AFTER:
Bonmio
's original kitchen was incredibly outdated, to say the least. There were no built-in cabinets in this space — just a double 4-foot standing sink in a back pantry and a random freestanding hutch. Everything needed to be redone, so she installed Ikea countertops that she sanded and stained. The appliances were where she ended up splurging, and she installed simple open plywood shelving for extra storage.
New kitchen size:21 by 7 feet
Budget: $18,000. An architect checked the owners' design to help them avoid mistakes. They hired a plasterer and a plumber but did everything else themselves.
Location: Cambridge, Massachusetts
10. Tennessee Ranch Kitchen

AFTER:
Although she was intent on renovating the apartment attached to her stable, Houzz user
prtiris
knew she needed to work on a tight budget. Buying salvaged cabinetry and reusing and replacing almost everything in the original space helped her save some serious cash. Some of the apartment's original cabinetry was used to reconstruct and build the island. Leftover poplar boards from the ceiling were painted, waxed, stained and then nailed on top of the old cabinetry.
New kitchen size:11 by 12 feet
Budget: This DIY kitchen cost $5,000.
Location: Wild Heart Ranch, Sewanee, Tennessee
11. Simple and Clean New York Space

AFTER:
Houzz user
bpharber
wanted a traditional look for her 1950s home, with a clean, modern feel. Since she had lived in her house for eight years and knew its quirks inside and out, she decided against hiring a designer and instead worked with a friend who made custom cabinetry. The smart cabinet designs gave her space and extra storage without any interior walls being moved.
New kitchen size: 120 square feet
Budget: $25,000. She did the design herself and gave the drawings to a friend who owns a custom cabinetry business.
Location: Buffalo, New York
12. Cozy South Carolina Kitchen

AFTER:
After their refrigerator leaked and ruined their heart-pine floors,
Christie Thomas
knew it was time for a remodel. It's about 90 percent finished right now — and exactly what she wanted. "I had no idea how difficult some of the decision making would be," she says. "I have an appreciation for designers now and can certainly see why people hire them!"
New kitchen size:18 by 21 feet
Budget: $62,000. Thomas did the design; her husband tore out the old kitchen and did the painting. They worked with a cabinetmaker and a contractor.
Location: Rock Hill, South Carolina
13. Midcentury California Bungalow

AFTER:
This 1945 California bungalow's kitchen was originally closed off from the rest of the house, with little counter space and almost no storage. Ten years after moving in, Houzz user
dragonfly95354
was able to remodel it. Opening up the wall into the living room, replacing counter space and updating cabinetry made for an impressive transformation. "Now this room makes me happy every time I walk into it," she says.
New kitchen size:10 by 17 feet
Budget: $40,000. A contractor did the remodel.
Location: Modesto, California
14. 1907 San Francisco Kitchen

AFTER:
Originally, this 1907 kitchen had an exposed water heater and pipes, so
sharonsf
had a tankless water heater installed outside to eliminate unsightliness and add square footage. The kitchen's original stove was kept, and the rest of the kitchen was finished around it.
New kitchen size:11 by 11 feet
Budget: $20,000 over several years with the help of a contractor
Location: San Francisco
15. Beautiful British Columbia Kitchen

AFTER:
This midcentury kitchen had great character but just wasn't practical for
h2bourne
's lifestyle. The original cabinets were so low that microwaves and other appliances couldn't be placed on the countertops. New upper cabinetry, quartz countertops and a new wall color made a world of difference. The oak laminate floors were ripped up to expose the original fir floors underneath.
New kitchen size:11 by 12 1/2 feet
Budget: Canadian $15,000. The owners designed their own update with the help of friends.
Location: Port Coquitlam, British Columbia, Canada
16. Cabinet Facelift in Virginia

AFTER:
This user's original "stick built" custom cabinetry fit the previous style of her 1960s ranch, but she was looking for something a little different. To save money,
immaggiemae
salvaged cabinets when possible by repainting them and adding new hardware, putting the money she saved into new appliances and lighting. She scored a free stove from a kind neighbor.
New kitchen size:13 by 10 feet
Budget: $20,000, working with a contractor
Location: Lynchburg, Virginia
17. Modern Layout in the U.K.

AFTER:
Originally,
tanyae23
's 1935 cottage kitchen was all pine, with a washer/dryer, a display cabinet and an awkward half fridge taking up valuable space. This section was knocked down to put up more cabinets, a full fridge and a breakfast bar — all while switching up the style to a streamlined and modern look.
New kitchen size: 3.75 by 3.3 meters
Budget: 10,000 British pounds. She did her own design.
Location: Fleet, Hampshire, U.K.
18. Timeless Ohio Remodel

AFTER:
Although the bones of her 1920 house were great, Houzz user
julia1362
needed a kitchen upgrade. However, she wanted it to look and feel like it had always been there. The cabinetry was custom made to match the home's original pantry doors, the poplar countertop was refinished and the pantry cabinets were painted a charcoal grey. New green glass tiles and wallpapered accents complete the look. "We mixed the old with the new and are thrilled with the results," she says.
New kitchen size: 9 1/2 x 14 1/2 feet
Budget: $50,000. She designed the remodel with the help of a friend who's an interior designer.
Location: Shaker Heights, Ohio
19. Open and Bright in Manitoba

AFTER:
Leslie Kreger
purchased this 1968 two-story home in summer 2011 and immediately knew she'd have to update the 1990s oak and black granite kitchen. In eight months she reworked the space into a bright and open modern kitchen.
New kitchen size:12 by 17 feet
Budget: Under $40,000. Kreger designed her own update.
Location: Winnipeg, Manitoba, Canada
20. Classic and Clean Cape Cod in Georgia

AFTER:
This Cape Cod was still stuck with its 1980s kitchen, and
lizwparks
wanted to take it into the 21st century. Everything was updated, including new granite countertops and a layout that more than doubled the original storage and counter space. The island was even outfitted with a hidden docking station for electronic gadgets.
New kitchen size:16 by 18 feet
Budget: $40,000. She worked with two designers, Angel Murr of JMT Builders and Terry Crockford of Rosewood Custom Homes.
Location: Milton, Georgia
21. Spacious California Remodel

AFTER:
"We purchased this house with the vision of what could be," says Houzz user
Pam Garcia
. Her old kitchen was small and dark, but she and her husband removed the wall so that the new space had a clear view to the backyard. Reconfiguring the layout allowed them to snag some unused space from one of their garages to make a walk-in pantry with a wine room at the end.
New kitchen size: 13 by 20 feet.
Budget: The kitchen was part of a whole-house remodel. The owners acted as their own contractor and got help from friends in the business.
Location: Novato, California
22. Stunning DIY Chicago Kitchen

AFTER:
Paulinas
bought her first house with her fiancé last year and renovated it with her father — saving a lot of money. The kitchen design is her own and makes use of every inch of space. The cabinetry was made by her father, a self-taught woodworker. The couple also got handy and made the chandelier for the dining room themselves.
New kitchen size: 13 by 9 1/2 feet
Budget: A little over $5,000. Paulinas designed her kitchen with her dad and fiancé
Location: Suburb northwest of Chicago
23. Pretty and Practical Upgrade in Illinois

AFTER:
Stlouisgaltoo
moved into this 1930s farmhouse 10 years ago and couldn't stand the kitchen's outdated style. Stuck with a tight budget, she aimed for functionality and installed stock maple cabinets, white appliances, laminate counters and wood-style sheet vinyl for easy cleanup.
New kitchen size:12 by 15 feet
Budget: $12,500. She worked with a Home Depot designer and had everything professionally installed except for the cabinets, which her husband worked on.
Location: Lincoln, Illinois
24. Frumpy to Contemporary in Washington

AFTER:
Although Houzz user
synergylw
was able to make do with a mini makeover of her kitchen a few years ago, she knew a full remodel wasn't far in the future. While she loved the layout, the materials needed an upgrade, so she gutted the entire space, maintaining the layout but replacing the cabinetry, counters, appliances, backsplash and floors. "From frumpy to country to modern contemporary," she says. "We love it."
New kitchen size:19 by 14 feet
Budget: $35,000, working with a contractor to update the space using the existing layout.
Location: Ferndale, Washington